Villa des Croix
Awarded 95 points and Outstanding status by Decanter in their April 2019 Panel Tasting on the Picpoul de Pinet
SO Vignerons (SV) is a small négociant structure, producing typical, high-quality Languedoc wines. The company was founded by Claude Serra (the "S") and Daniel Orsolini (the "O") in 2005.
Claude, SO Vignerons' winemaker consultant, is also a Professor at Montpellier University of Oenology, and manages the company's viticulture and winemaking.
The philosophy behind So Vignerons is to produce high-quality, modern-style Languedoc wines at very affordable prices. This has been made possible by:
- the long-term contracts signed with their growers;
- having Claude as the winemaker/consultant to all their growers; and
- using a state-of-the-art bottling line.
All SO Vignerons' wines are vinified by Claude and come from vineyards located on specially selected terroirs producing characteristic varietals from the Languedoc region. Their aim is to share their passion for their wines and region and a commitment to preserve the environment.
The Villa Des Croix property is planted with Picpoul, Viognier, Pinot Noir and Terret. The Villa des Croix wines each adhere to a monovarietal approach.
The AOP Picpoul de Pinet Terroir spreads around the Bassin de Thau along the Mediterranean Sea. A limestone plateau, exposed to the rising sun, covered with fragrant garrigues and dotted with tall pine forests typifies the appellation. 
The grapes were harvested at night to ensure the grapes were cool when arriving at the winery to ensure that delicate fruit character was preserved before pressing and that the aromatic style of the wine was guaranteed. The wine was fermented and stored in stainless steel which ensured no oxidation of the citrus fruit character. A cool fermentation (around 15°C) also helped preserve fruit purity.
However, it it is at this point that the Villa des Croix differs from most Picpouls de Pinet. Most are bottled in Dec/Jan, after fermentation and settling alone. However, the Villa des Croix is also and always kept on its lees for a minimum of 4 months to add texture, weight, body and complexity while not detracting from the expected fruity-and-mouthwatering nature of a Picpoul de Pinet.
Citrus - most notably lemony - aromas combined with floral notes on the nose. Fresh, lively and thirst-quenching on the palate. The Villa des Croix carries a greater 'marine'/saline feel than many Picpouls, a markedly greater intensity of flavour and a longer-lasting finish.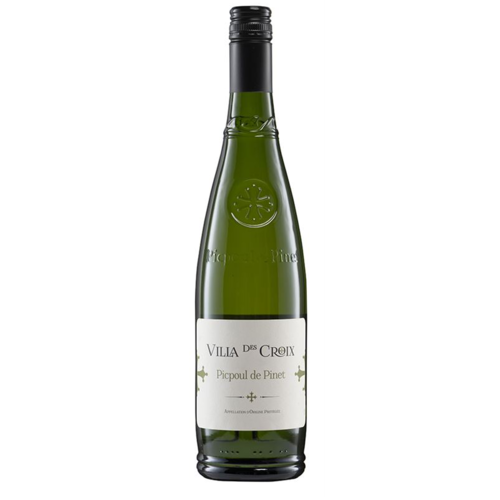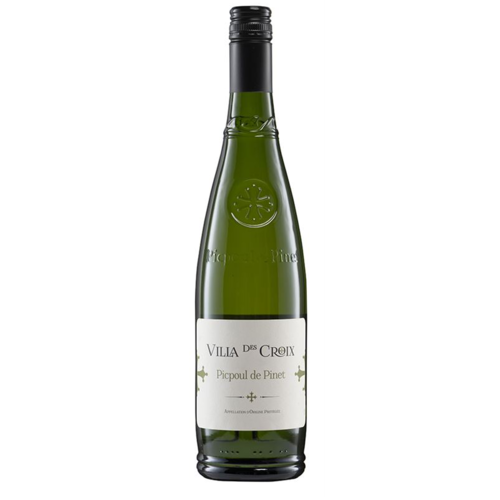 The AOC Picpoul de Pinet terroir spreads around the Bassin de Thau. The roots of the vines are almost real here in the Mediterranean Sea, which you will definitely taste in the wine. Because the vineyards are close to the coast, the terroir here mainly co
Read more
Villa des Croix
Picpoul de Pinet 2021
The AOC Picpoul de Pinet terroir spreads around the Bassin de Thau. The roots of the vines are almost real here in the Mediterranean Sea, which you will definitely taste in the wine. Because the vineyards are close to the coast, the terroir here mainly co